On March 20th, a corporation in New York filed a federal trademark
application
for COTTON CANDY. At first glance, one might think this trademark is merely descriptive and not capable of protection. But it's all about the related goods or services.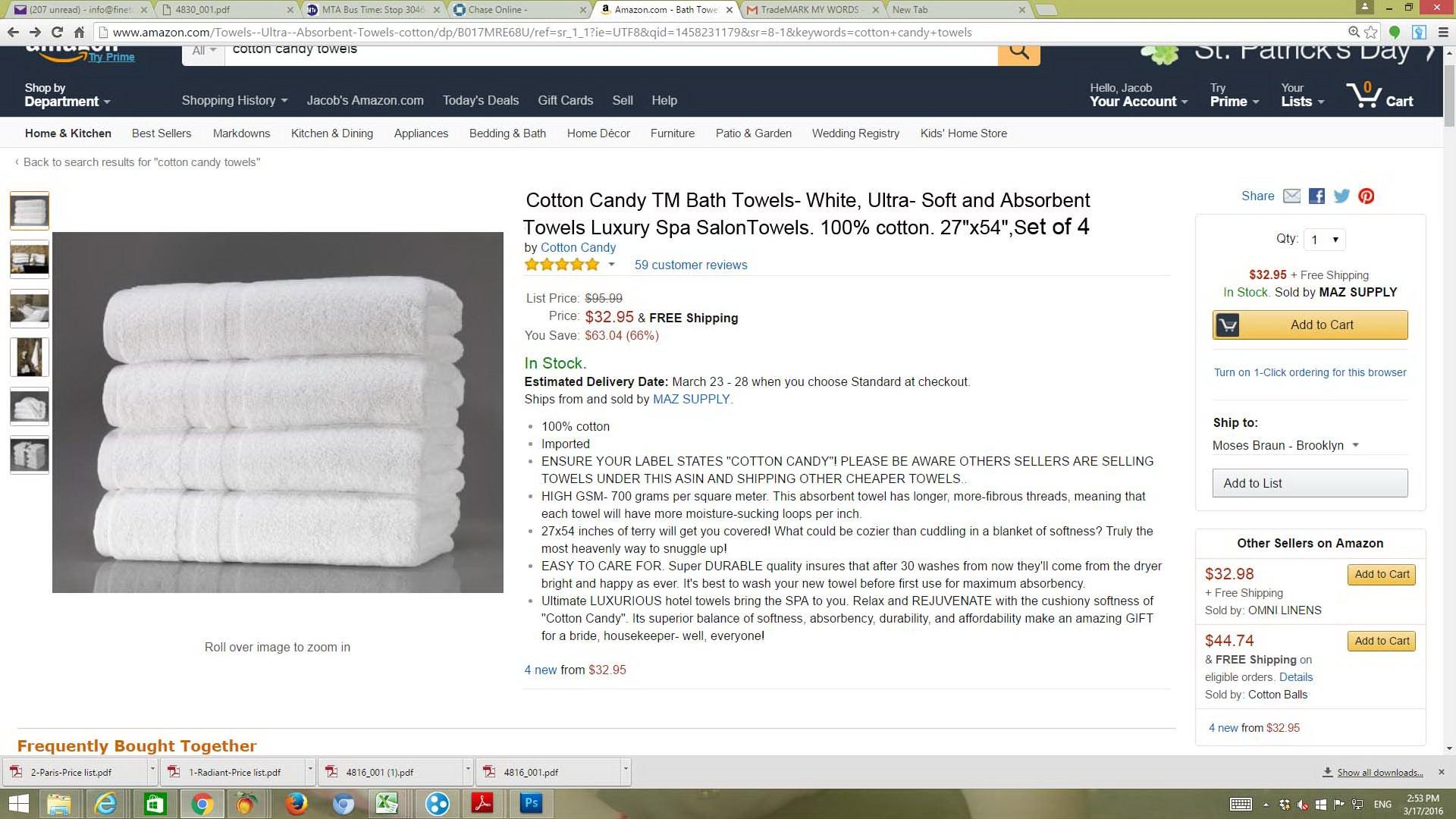 A merely descriptive mark
"
describes an ingredient, quality, characteristic, function, feature, purpose, or use of the specified goods or services."

TMEP 1209.01(b)

. Merely descriptive marks are weak trademarks. They cannot be registered on the

Principal Register (where you want to be) at the U.S. Patent and Trademark Office until a showing of "acquired distinctiveness" (which is not easy). TMEP 1209.01. See TMEP 1212 for more information on acquired distinctiveness.
On the other hand, arbitrary marks are very strong trademarks. They can be registered on the Principal Register without a showing of acquired

distinctiveness

. An arbitrary mark is one "
comprise[d] [of] words that are in common linguistic use but, when used to identify particular goods or services, do not suggest or describe a significant ingredient, quality, or characteristic of the goods or services (e.g., APPLE for computers; OLD CROW for whiskey)." TMEP 1209.01(a).
In plain English, merely descriptive trademarks are difficult to protect and register because the law is designed to prevent one party from claiming a

monopoly

over a term that is used by many to describe certain goods or services. A
s a cotton candy vendor, i
magine how difficult it would be
to describe your product if you could not use the term "cotton candy." Arbitrary marks, on the other hand, are
unique
and stand out because they are typically used on unrelated goods or services.
In the case of the COTTON CANDY mark above, the applicant listed "[t]owels" in Class 024 as the related goods. Cotton candy is completely unrelated to towels, making this trademark arbitrary (and strong).
This mark demonstrates the importance of considering the goods or services offered in conjunction with a trademark. If this corporation offered cotton candy (or arguably any candy) under this trademark, it would probably be merely descriptive. Offering towels transforms it into an arbitrary mark.
Note - it is also possible the COTTON CANDY mark is suggestive. A suggestive mark "when applied to the goods or services at issue, require[s] imagination,

thought

, or perception to reach a

conclusion as to the nature of those goods or services." TMEP 1209.01(a). Use of these towels may provoke warm, fuzzy feelings like eating cotton candy. In that case, the mark could be suggestive. As far as registering this trademark with the USPTO, the distinction does not make much of a difference. Suggestive marks are also strong trademarks and can be registered without a showing of acquired distinctiveness.