On May 2, the Active 20-30 Club of Redding Foundation, Inc. d/b/a Sundial Film Festival filed a federal trademark application for
SUNDIAL FILM FESTIVAL
. The applicant filed the application in Class 041 for "[e]ntertainment services, namely, planning and conducting a series of film festivals[.]"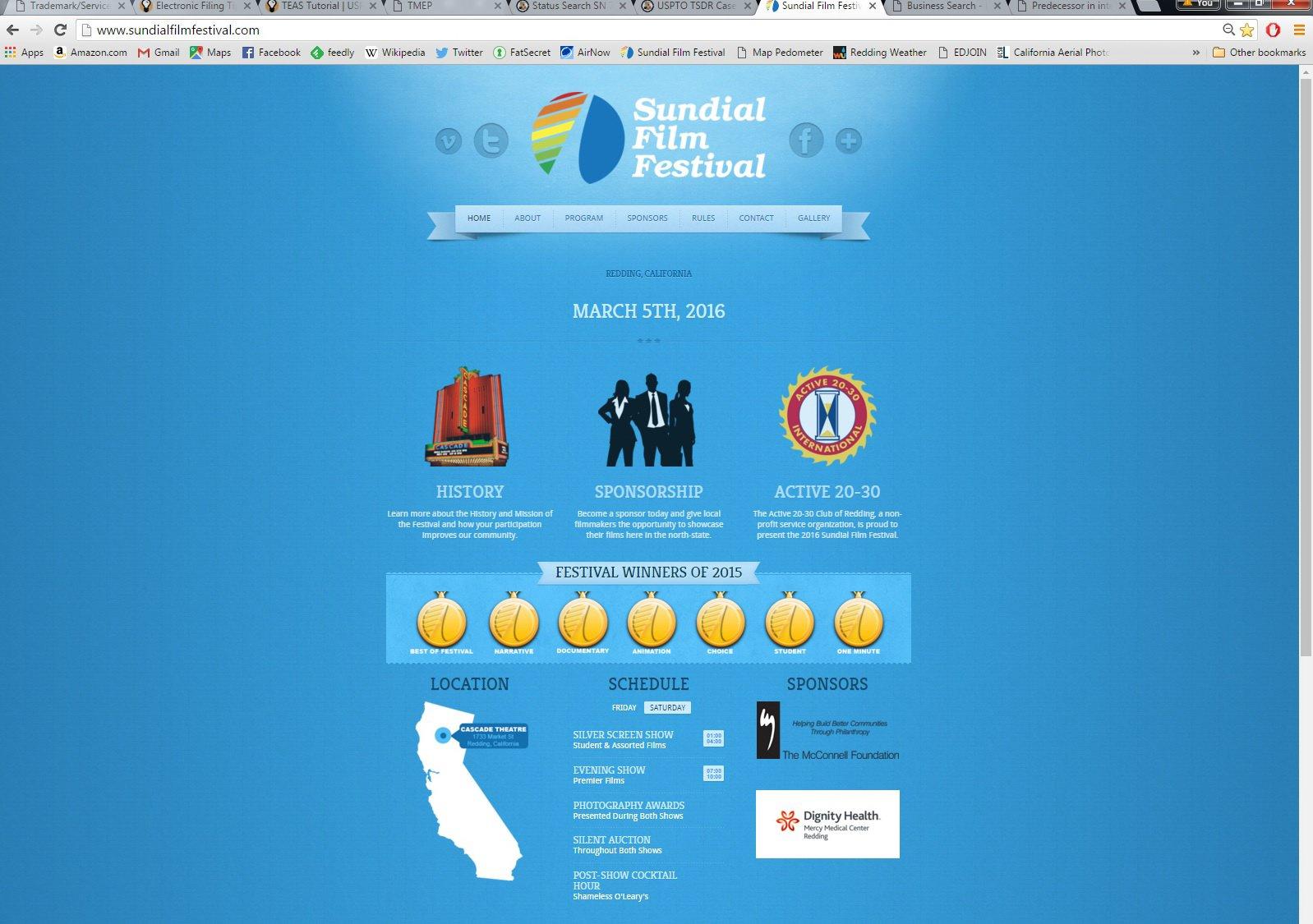 According to the Applicant's
website
, the Sundial Film Festival is a California-based film festival in its eighth year. This coincides with the April 7, 2008 first use date listed on the trademark application.
However, there is a pre-existing registration for the well-known
SUNDANCE FILM FESTIVAL
, which was filed in 1996 and registered in 1998. The services listed on the Sundance registration are also in Class 041 for "entertainment services, namely, planning, managing, and conducting an international film festival."
It's well known that Section 2(d) of the Trademark Act prohibits the registration of a mark that is confusingly similar to a previously filed mark that matures to a registration. In determining whether two marks are confusingly similar, the Trademark Office will consider several factors, known as the
du Pont
factors. Those factors are:
The similarity or dissimilarity of the marks in their entireties as to appearance, sound, connotation and commercial impression;

The relatedness of the goods or services as described in the application and registration(s);

The similarity or dissimilarity of established, likely-to-continue trade channels;

The conditions under which and buyers to whom sales are made, i.e., "impulse" vs. careful, sophisticated purchasing;

The number and nature of similar marks in use on similar goods;

The existence of a valid consent agreement between the applicant and the owner of the previously registered mark. See TMEP 1207.01.
The first two factors - the similarity of the marks and relatedness of the goods or services - are considered the most important. The more similar the marks at issue are, the less similar the goods or services need to be to support a finding of likelihood of confusion, and vice versa. TMEP 1207.01(a).
Will the Trademark Office refuse to register SUNDIAL FILM FESTIVAL due to a likelihood of confusion with SUNDANCE FILM FESTIVAL? Probably. Not only are the marks almost exactly the same, differing only in the last few letters of SUN-, but the services are in the same class and nearly identical.
Note - it's interesting the Sundial Film Festival has been around for 8 years while the Sundance Film Festival has held a federal trademark registration for almost twenty. Sundance may not be opposed to Sundial. If that is the case, Sundial might use a consent agreement with Sundance to overcome a Section 2(d) refusal. See
TMEP 1207.01(d)(viii)
. However, the record does not reflect such a consent agreement at this time.