On October 29th, the University of Louisville filed a federal trademark
application
for SOCCERVILLE as it applies to shirts. However, obtaining a registration for clothing items can be tricky. Applicants often get an office action refusing to register their mark because the mark is seen as merely ornamentation and not as a functioning trademark. UL may have that problem with this application.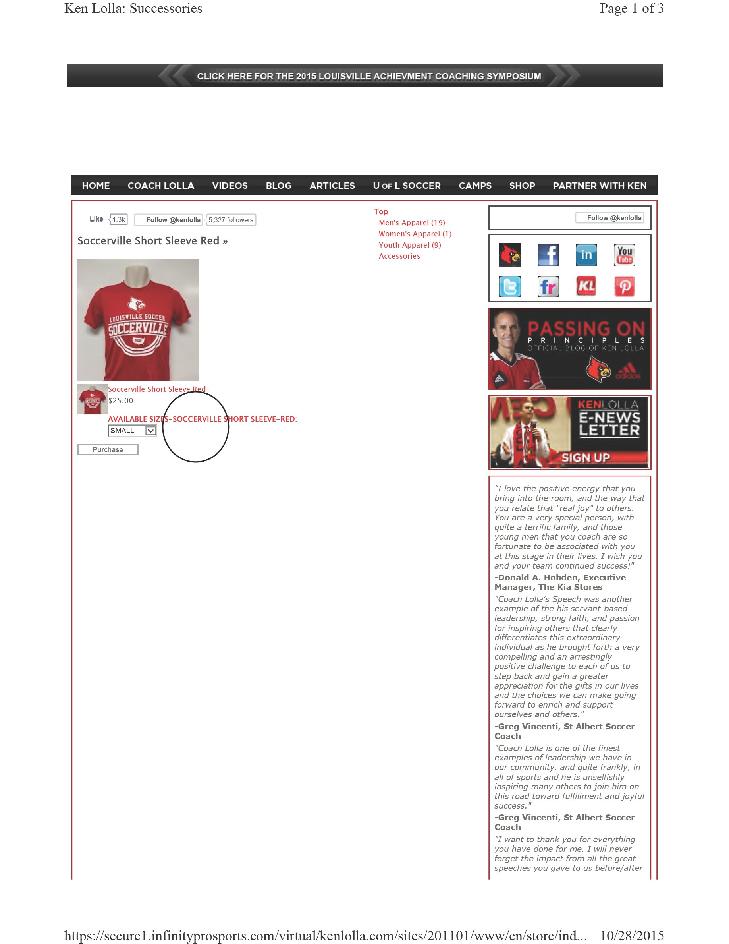 According to the Trademark Office,
"[s]

ubject matter that is merely a decorative feature does not identify and distinguish the applicant's goods and, thus, does not function as a trademark." TMEP 1202.03. In determining whether a mark is merely decorative, and thus should be refused registration for being ornamental matter rather than a trademark, the Trademark Office will consider the following factors:
(1) the commercial impression of the proposed mark;
(2) the relevant practices of the trade;
(3) secondary source, if applicable; and
(4) evidence of distinctiveness.
Id. The Trademark Office often finds slogans on apparel to be decorative slogans rather than source identifying trademarks

("[s]
logans or phrases used on items such as t-shirts and sweatshirts, jewelry, and ceramic plates have been refused registration as ornamentation that purchasers will perceive as conveying a message rather than indicating the source of the goods." TMEP 1202.03(f)(i) citing
In re Hulting
, 107 USPQ2d 1175, 1181 (TTAB 2013)).
In this particular case, the UL may have trouble convincing the Trademark Office that a SOCCERVILLE slogan across the front of a shirt is a source identifying trademark rather than a decorative slogan. If the UL had used this slogan in the tag of the shirt, or if it has other registrations for the SOCCERVILLE mark (and thus can use a "secondary source" argument), it would have a better chance at registration. However, when this particular application is assigned to an Examining Attorney in approximately three months, I predict an office action on the basis of ornamentation under TMEP 1202.03.