Recently, I blogged about a trademark
filing
for DOLLAR TOOTHBRUSH CLUB for a subscription based toothbrush service. Only a couple days later on, November 2nd, a couple guys in Florida filed a federal trademark application for DOLLAR TAPE CLUB as it relates to
"[s]

ubscription-based order fulfillment services in the field of Hockey sporting goods, namely, adhesive tape for hockey stick and uniform support, as well as skate laces, stick tape, hockey pucks and stick wax[.]"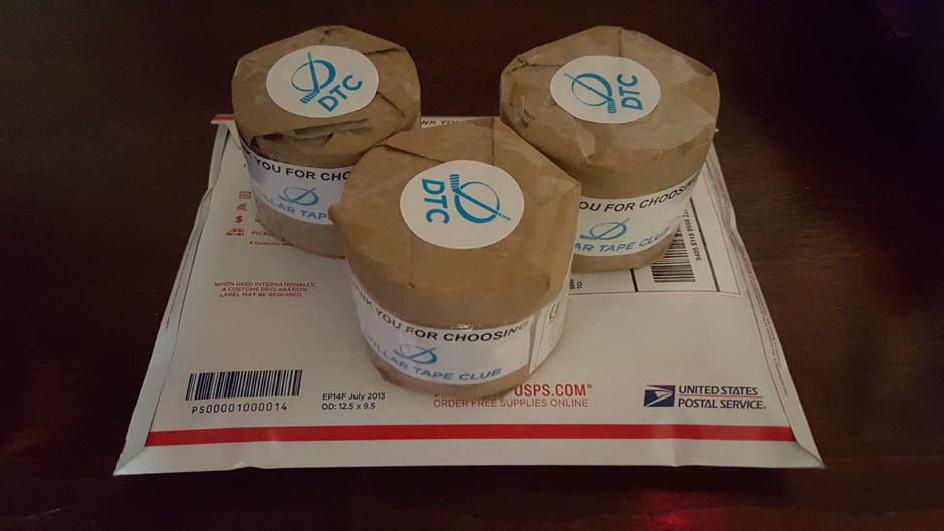 As mentioned in my previous post on DOLLAR TOOTHBRUSH CLUB, the Dollar Beard Club trademark application received an office action for being confusingly similar to the previously filed Dollar Shave Club trademark. I mentioned DOLLAR TOOTHBRUSH CLUB may suffer a similar fate if the Trademark Office thinks toothbrushes are related to shave products.
In the case of DOLLAR TAPE CLUB, hockey products are probably so unrelated to toothbrush and shave products that this application will not receive an office action for being confusingly similar. However, this application will get an office action because the specimen (shown above) does not match the mark filed (DOLLAR TAPE CLUB). If the specimen does not show the applied for mark being used on the goods, there is no evidence that the mark is being used in commerce. TMEP 904.07(a). However, if the applicant submits a better picture of the above specimen showing "Dollar Tape Club" rather than DSC, they can easily overcome this office action.
On an unrelated note - what a great idea. As a former hockey player, maintaining a supply of hockey tape, wax, and laces was always a task. This could be a hit in the hockey market.