In a somewhat bold move, the
Jamba Juice Company
filed a federal trademark application for
BANANA BERRY SMOOTHIE
on July 20th.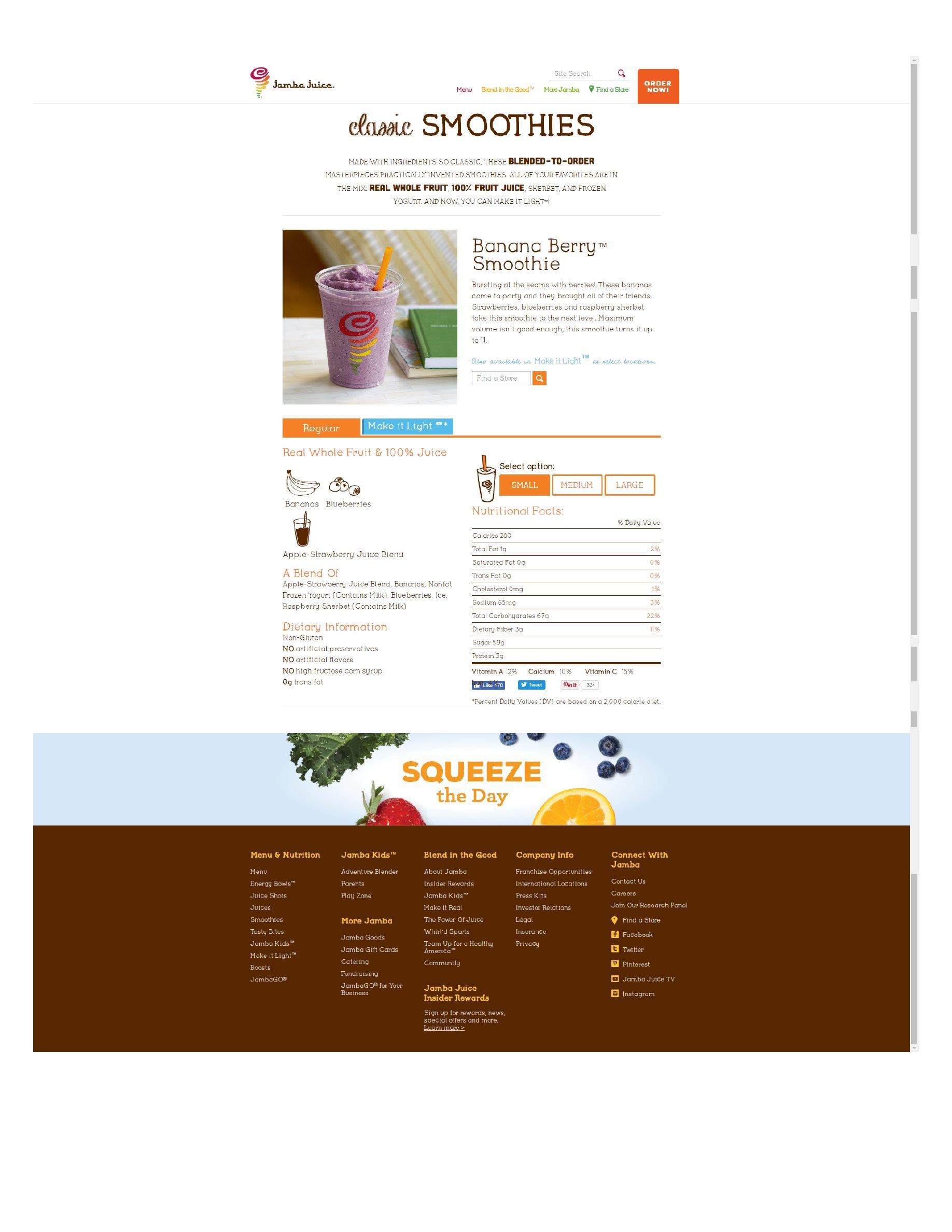 Jamba Juice filed the application in Class 032 for
"

Fruit juices and fruit drinks; vegetable juices and vegetable drinks; fruit and vegetable smoothies." The application lists a first use date of July 4, 2004.
Typically, such a mark would be considered merely descriptive because it describes "a
n ingredient, quality, characteristic, function, feature, purpose, or use of the specified goods or services." TMEP 1209.01(b). Merely descriptive words and terms usually cannot be registered as trademarks (on the Principal Register at least). 15 U.S.C. 1052(e)(1).
Jamba Juice, however, is claiming that BANANA BERRY SMOOTHIE has acquired distinctiveness. If a merely descriptive mark acquires distinctiveness, it can be registered as a trademark. What does it mean to acquire distinctiveness? It means the mark, "through usage by one producer with reference to his product, acquire[s] a special significance so that to the consuming public the word has come to mean that the product is produced by that particular manufacturer." See TMEP 1212.
In other words, Jamba Juice is claiming that when a consumer sees the mark BANANA BERRY SMOOTHIE, it associates the smoothie with Jamba Juice. This is a difficult claim to make, and the burden will be on Jamba Juice to make it. If the Examining Attorney at the Trademark Office does not accept Jamba Juice's 2(f) (aka acquired distinctiveness) claim on its face, Jamba Juice will need to submit evidence showing consumers associate the term with Jamba Juice. In general, "more evidence is required where a mark is so highly descriptive that purchasers seeing the matter in relation to the named goods or services would be less likely to believe that it indicates source in any one party." TMEP 1212.01.
In other words, Jamba Juice may have a difficult battle in front of it. But it is using a large and very skilled law firm, so it will be interesting to see how this one turns out. If Jamba Juice is successful in registering this term, it will obtain exclusive rights and can [attempt] to prevent other businesses from using anything similar to BANANA BERRY SMOOTHIE in relation to smoothies (which will make for interesting and challenging enforcement issues).