On July 16th,
Jenner Communications, Inc.
(the management/production company for the Kardashian, Jenner, and Disick families) filed a
trademark
application with the U.S. Patent and Trademark Office for KRIS JENNER as it relates to:
Fragrances; eau de parfum; eau de toilette; perfumes; hair care preparations; hair styling preparations; skin soap; bath and shower gels; bubble bath; body powders; body lotions; face lotions; body creams; body milks; skin toners; skin cleansers; beauty masks; body scrubs; facial scrubs; body oils; deodorant for personal use; lip balm; lip gloss; cosmetics; cosmetic preparations; nail polish; nail polish remover; and nail care preparations[.]
Kris Jenner's consent to register her name as a trademark (below) was submitted with the application as required by Section 2(c) of the Trademark Act.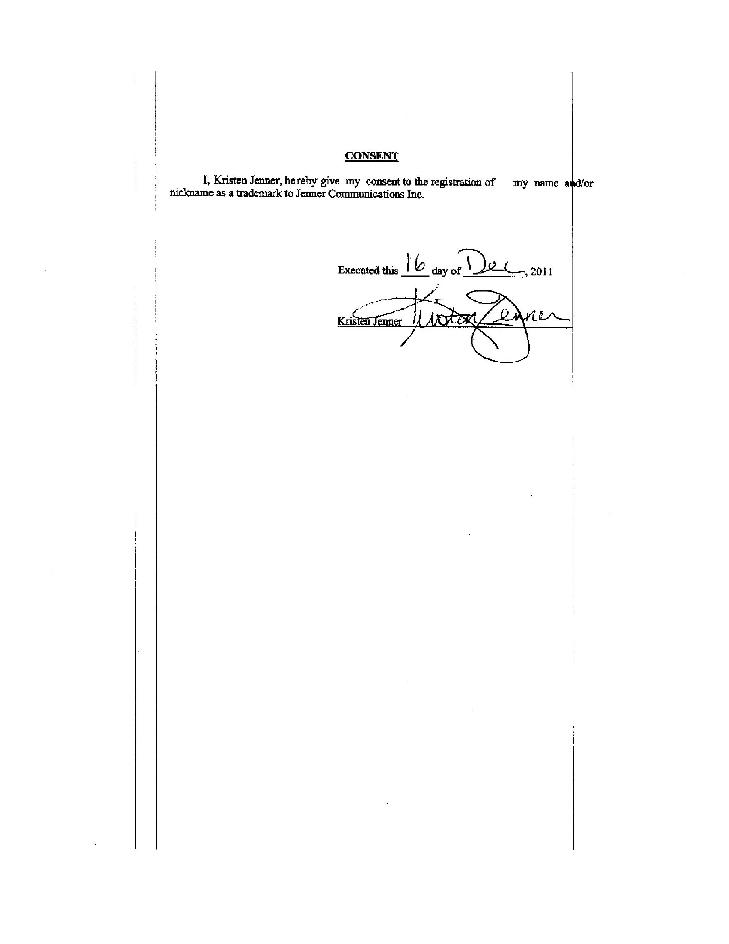 The "intent to use" basis of the application means that Jenner Communications is not yet using Kris Jenner's name as a trademark on the listed goods but has a bona fide intention to do so in the near future. This exact same
application
was filed by Jenner Communications in December 2011 under an "intent to use" basis but, after requesting five extensions from the Trademark Office to file the form showing actual use of this mark in commerce (which is the maximum allowable), Jenner Communications apparently ran out of time to complete that application.
Kris appears to be joining Kim Kardashian, Kendell Jenner, and Kylie Jenner in the field of cosmetics. Kim obtained a federal trademark registration over her own name in the cosmetic field in 2011. Kris, Kim, Kendell, and Kylie appear to be the only Kardashians/Jenners who have actually filed a federal trademark for their own name in the cosmetic field.