It's not often an applicant attempts to file a federal trademark application for a parody mark, but that is exactly what a company in Florida did on February 10th (with the help of a Florida intellectual property attorney, I might add).
On February 10th, Notsportscenter, LLC, a Florida limited liability company, filed a federal trademark
application
for NOTSPORTSCENTER in Class 041 as it relates to
"[e]

ntertainment

services in the nature of online news in the field of athletic sports and humor;

entertainment

services, namely, providing a web site featuring literature, video clips, film clips and other multimedia materials all featuring athletic sports and humor; providing information in the field of

entertainment

in the nature of humor relating to athletic sports;

entertainment

information regarding athletic sports and humor via the Internet, electronic communications networks, computer networks and wireless communications network."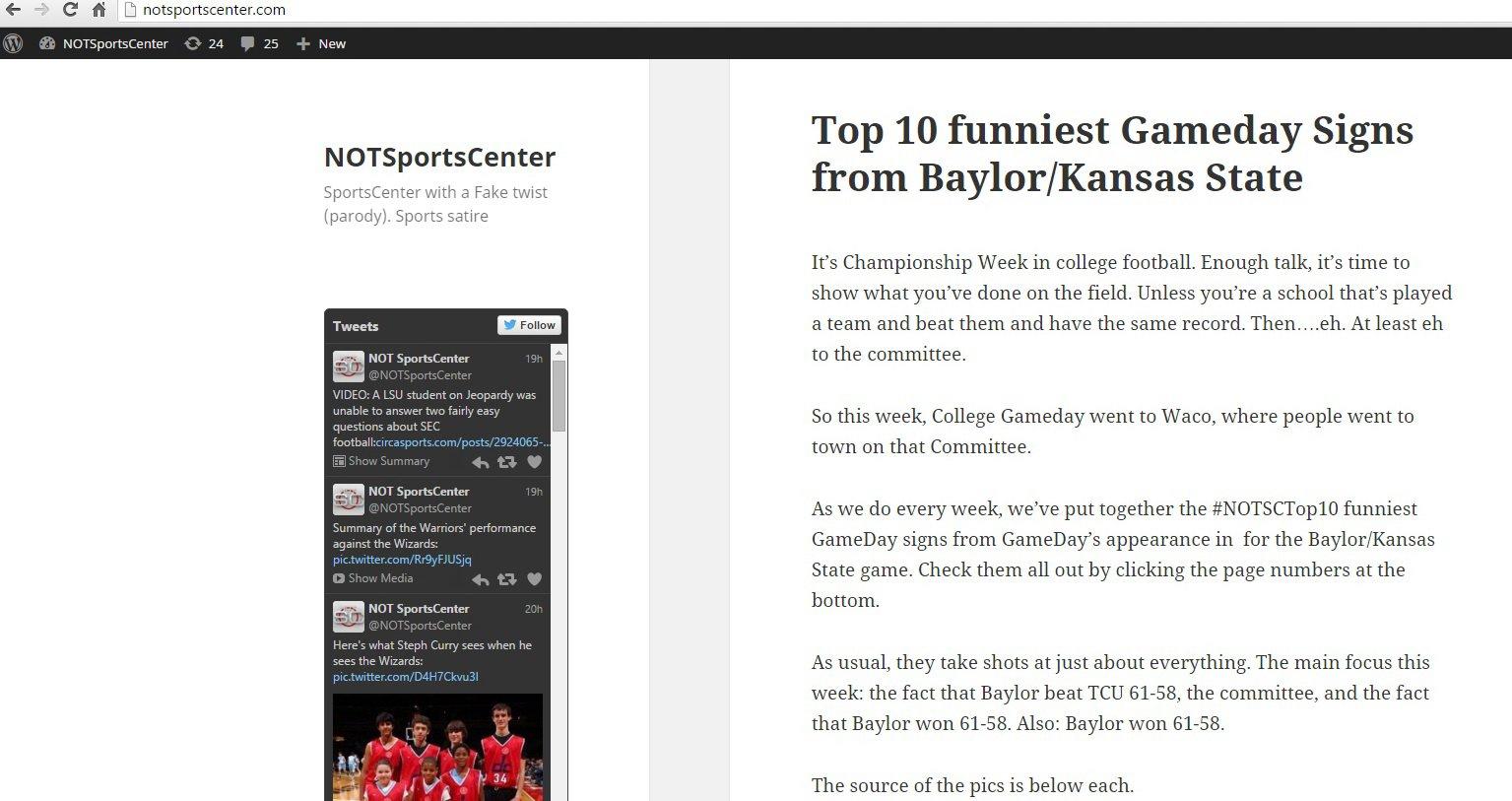 The date of first use is listed as April 1, 2013 and the mark appears to relate to a website and Twitter account (which has over 422k followers) that is a parody of ESPN's
SportsCenter
.
Those who are familiar with trademarks know that, although several factors go into the analysis, trademark infringement generally occurs when someone adopts a mark that is the same or similar to a pre-existing mark and uses it on goods or services related to those offered by the senior user (thus creating, at least in theory, a likelihood of confusion among consumers). For this reason, the U.S. Patent and Trademark Office will refuse to register trademarks that are confusingly similar to previously filed marks.
Parody marks, however, can sometimes overcome this likelihood of confusion bar because it is obvious that that mark is a parody and not associated with the senior user (in this case, the mark itself, and several disclaimers on the website and Twitter account, make it pretty clear that this entity is "NOT" SportsCenter). This obviousness negates any likelihood of confusion.
However, parody marks do not always survive a likelihood of confusion analysis because "[t]here are confusing parodies and non-confusing parodies." J. Thomas McCarthy,
McCarthy on Trademarks and Unfair Competition,
§31.153 (4th ed. 2010); see

TMEP 1207.01(b)(x)

. "[P]arody is not a defense if the marks would otherwise be

considered

confusingly similar."
Nike, Inc. v. Maher
, 100 USPQ2d 1018, 1023 (TTAB 2011).
In the past, the Trademark Trial and Appeal Board (TTAB) has held CRACKBERRY, when used on clothing and online computer services, to be confusingly similar to BLACKBERRY.
Research in Motion Ltd. v. Defining Presence Mktg. Grp., Inc.
, 102 USPQ2d 1187, 1192 (TTAB 2012). Additionally, LESSBUCKS COFFEE was held to be confusingly similar to STARBUCKS COFFEE when used on identical services.
Starbucks U.S. Brands, LLC v. Ruben
, 78 USPQ2d 1741 (TTAB 2006).
It's clear that the services offered under the SPORTSCENTER mark and NOTSPORTSCENTER mark are extremely related, if not identical. Therefore, the question becomes: is NOTSPORTSCENTER likely to confuse consumers as to whether the mark is associated with or sponsored by SportsCenter and ESPN? Is the addition of "NOT" to the mark enough to make this a parody? The applicant and its attorney appear to believe so, although they might be up for a fight if ESPN takes notice of this one.