On September 6th, a restaurant in Tarzana, California filed a federal trademark
application
for the term SPAGHETTI MEATBALLWICH as it relates to "[s]
andwiches; Sandwiches, namely, Meatball; Spaghetti and meatballs."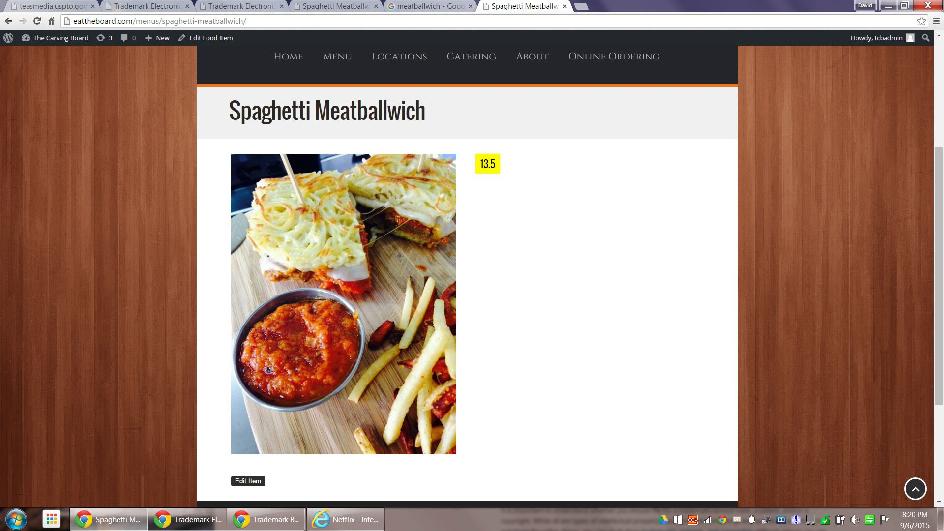 The applicant's specimen of use, shown above, is a screenshot of the sandwich on its website. Although website screenshots are not always acceptable specimens, this one should work.
According to Section 904.03(i) of the Trademark Manual of Examining Procedure, "a webpage can constitute a 'display associated with the goods' [which is an acceptable specimen] if it:
(1) contains a picture or textual description of the identified goods;
(2) shows the mark in association with the goods; and
(3) provides a means for ordering the identified goods."
As you can see on the specimen above, the webpage certainly shows a pictorial description of the sandwich, the trademark is in large letters right above the picture, and in the top right corner there is the ability to order online. If the webpage did not contain one of these elements, such as the ability to order the sandwich, it may not have been an acceptable a specimen.
If the applicant is successful in obtaining this registration, they will become the only restaurant that can name a sandwich the "Spaghetti Meatballwich."